One of the most helpful things our clients can do for our agency is to leave us an honest online review. We take customer service very seriously, and this allows us to gauge how we're doing and make adjustments if need be.
Online reviews also help us tremendously in terms of other local Washington residents finding our agency online when searching for a local insurance agent. You may click this link http://bit.ly/SPIreview or follow the steps below.
Here's how to do it:
Step 1: Search for "Sound Pacific insurance tacoma wa" in Google
Step 2: Click the "Write a Review" button to leave your review. That's it!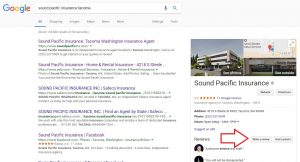 That's it! Thank you so much for helping us out!